Eyvind Earle on Lady and the Tramp
Artist Eyvind Earle spent some seven years at the Walt Disney Studio, only a short period in his life-long career as a fine artist. But those seven years proved to be perhaps the most important, for through his work at Disney, he found inspiration and practice, which lead to him truly developing his own unique style.
Earle worked on only three features at Disney along with a handful of shorts. He served as a background artist on Peter Pan (1953) and Lady and the Tramp (1955), as well as taking on his famous role of "Production Designer" on Sleeping Beauty (1959). It was on that film that Earle was given total artistic control by Walt Disney, overseeing all visual development and having final say in all designs and color. Sleeping Beauty is Eyvind Earle as far as visual style is concerned. But it was on Lady and the Tramp that this style first found its way into a Disney feature.
Many stylists and artists worked on Lady and the Tramp over the years through its long development, including Joe Grant and Mary Blair. Both had left the Disney Studio by the time Eyvind Earle had arrived. Though he mainly worked as a background artist, Earle was also assigned to create concepts for Sequence 7, known as "Bella Notte." This Sequence comprised Lady and Tramp's moonlight walk through the park after their meal at Tony's. Gerry Geronimi, who would have worked directly with Earle along with Layout Man Tom Codrick, directed Sequence 7. "One day Walt came into my room," Earle would later remember, "and simply said to me, 'I want you to do the backgrounds for the park sequence."
Take a look at the original production draft for Sequence 7:
These conceptual pieces for Sequence 7 were very much in the approach as designs done for Sleeping Beauty. "You can see the encrusted trees and the shadows, and the very limited palette he uses, very simple shapes that read very well from across a room," comments historian John Canemaker.
In the final backgrounds, Earle was also infusing similar elements of style used to extremes in Sleeping Beauty, though on a more subtle level for Lady and the Tramp. Artist Hans Bacher explains, "
you see stylistic similarities especially in the romantic night sequence. Or when you study some of the hedges, the same foliage design like in Beauty's forest." This is seen both in the final backgrounds and conceptual designs for Sequence 7. Trees from the park sequence resemble very much a tree from Sequence 8 in Sleeping Beauty, where Briar Rose sings in the forest. The only difference is that these distinctively Earle designs do not overwhelm the film. For "Bella Note," it accentuates the emotion of what is supposed to be a highly romanticized moment. The impressionism of the designs do survive more fully in the final backgrounds of this sequence more than elsewhere in the film, reflecting just such a mood.
Compare these trees from Lady and the Tramp and Sleeping Beauty, note the similarities in texture:
Lady and the Tramp
Lady and the Tramp
According to Earle's autobiography, "Horizon Bound on a Bicycle", this work on the park sequence coincided with some of his work on Sleeping Beauty. Indeed Earle spent upwards of four years on the feature, the full production lasting more than six.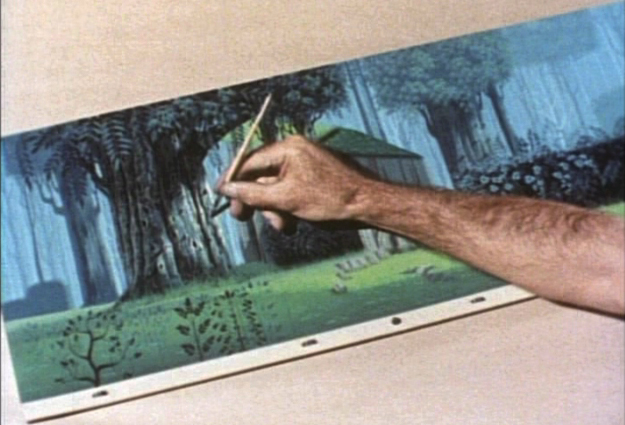 Lady and the Tramp
was the first Disney feature produced in Cinemascope, a new form of widescreen developed in the 1950's to compete with the new product of television. For a Disney feature, this meant new challenges for the background and layout artists more than for any other group. The backgrounds had to convey interest and detail across a stage near twice the size of previous films, but still keep the focus on the characters.
Specifically for Lady and the Tramp, the cinematography, and in effect the backgrounds, were based from a dog's point of view. Disney producer Don Hahn comments, "when you're down that low, it's a very horizontal world, the world's not defined by the sky, it's defined by the floor and the carpet and the lawn and the fire hydrant." This proved particularly apt for the stationary camera style of Cinemascope features. Earle was personally able to stretch his muscles with the widescreen in practice for the even fuller demands of Sleeping Beauty's panoramic backgrounds.
At the time of this writing, one visiting the Walt Disney Family Museum in San Francisco's Presidio will find a good selection of Earle's paintings for Lady and the Tramp on display in "Gallery 7." Featured are a series of thumbnail paintings as well as larger pieces similar to his designs for Sleeping Beauty, done on paper sized to match a Cinemascope screen. These pieces have recently been put on display as a result of preparations for the upcoming Mary Blair exhibit at the Museum. Understanding Blair's work as a principal Disney stylist is crucial to understanding Earle's work after her departure. Walt specifically cited the failure to fully capture Blair's designs and colors into the final film (such as Cinderella [1950] or Alice in Wonderland [1951]) as his key reason for placing Earle in charge of Sleeping Beauty's style. Examples of Earle's work for Sleeping Beauty are viewable in "Gallery 9" of the Museum.
Regarding Mary Blair, Earle would remember: "I remember the first day I came to work at Disney's, up on wall of one of the artist's rooms were about 100 exquisite paintings by Mary Blair. It was her job to do the first original styling for a feature or a special short. She was a great artist, a great designer, and a great colorist. In my mind, I said to myself, 'That's the job I want at Disney.'"
"The extraordinary thing about working at Disney's," recounted Earle in
Horizon Bound
, "was the fact that I was suddenly surrounded by hundreds of artists and hundreds of them were good artists." Throughout his years at the Studio, Earle was both pushed to paint a menagerie of subjects and exposed to a multitude of styles and artistic approaches. In a way, Earle became the artist he would be for the rest of his life whilst working at Disney's.
Earle was not the first great stylist at the Disney Studio, nor was he the last. He came in a long succession of masterful artists. He still stands out as the only one given full artistic control over a full-fledged Disney feature. His touch remains prevalent in Lady and the Tramp in a more subtle fashion compared to that of Sleeping Beauty.
-Bacher, Hans. "Dogs." One1more2time3s Weblog. N.p., 20 Feb. 2009. Web. 14 Dec. 2013. <https://one1more2time3.wordpress.com/2009/02/20/dogs/>.
-Earle, Eyvind. Horizon Bound on a Bicycle: The Autobiography of Eyvind Earle. Los Angeles: Earle and Bane, 1990. Print.