Greetings to all who have discovered this blog! I am Lucas O. Seastrom, and among other things, I am studying to become a film and animation historian. Here on this blog I hope to provide an outlet for my studies, writings, and interviews. I will cover a variety of subjects and topics, with an emphasis on Disney history and Sleeping Beauty in particular. If you are still reading, I cannot express my thanks enough for your interest. So let's get going with the first of what I hope to be many, many posts into the future.
What Could Have Been: Wilfred Jackson and Sleeping Beauty
In 1952, Sleeping Beauty was progressing through story development and the first recordings of dialogue and animation tests were ready to be made. Wilfred Jackson, along with Ted Sears, began work on the process. Jaxon, as he was known amongst his peers, had started hanging around the Disney Studio in the days before Mickey Mouse made his debut. He had since risen to be one of the studio's greatest directors, helming 35 shorts, along with work on 11 features. "Jaxon taught us thoroughness and attention to detail," Frank Thomas and Ollie Johnston later wrote. "He had an immensely creative grasp of the whole picture and what he wanted to do."
Jaxon and Sears worked on the development of the sequence where Briar Rose and Prince Philip dance in the forest among others. They proceeded through many versions as Walt relented from being completely satisfied. Then, in 1953, Jaxon suffered from a heart attack. He survived, but he did not return to the studio for almost a year. It seemed that Jaxon's impassioned commitment to his work had caught up with him. He returned in 1954, directed 13 episodes for the Disneyland television series, and would eventually retire in 1961.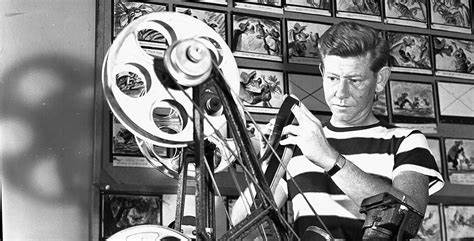 Jaxon
"I was working on Sleeping Beauty, and in December 1953, I had a coronary. I was on the introductory sequence, the pilot sequence," Jaxon once recounted. "While I was sick and away, another man took over my sequence." That man was animator Eric Larson, who had originally worked on shorts directed by Jaxon. Eric stepped up to take his place as sequence director. "It was my first big challenge as a director…my unit was the first to work on it." Eric's unit ended up handling almost half of the final film.
In particular, the unit spent a significant amount of energy on Sequence 8, known as the "Boy Meets Girl Sequence." This comprised all of the events in the forest, and it involved the most complicated multiplane techniques and elaborate forest backgrounds, along with intricate animation from Marc Davis, Milt Kahl, and John Lounsberry. The sequence turned out beautifully done, but went way over budget in the process. It may have even developed a bit of friction between Walt and Eric at the time. But nevertheless, Eric, with his gentle spirit, would look back on the film positively, "I still like the movie…Walt threw a challenge at us…It was going to be a moving illustration, the ultimate in animation, with full use of the Cinemascope screen."
Eric Larson
Sequence 8
One can't help but wonder what would have been if Jaxon had continued his work on Sleeping Beauty. No doubt, Eric Larson proved to be a fine director, but Jaxon's specific talents seem to be perfect for the context of Sleeping Beauty. Frank and Ollie described that for Jaxon "every frame of each scene was carefully considered and made into something valuable; the animator was never at a loss to know what should be done on the footage he had been handed." This devotion to detail would have fit the world of Sleeping Beauty like a glove. With Eyvind Earle in charge of design, the film's production slowed dramatically as every drawing was given the utmost of attention.
"Jaxon was easily the most creative of the directors, but he was also the most 'picky' and took a lot of kidding for his thoroughness." Again, one can't resist comparisons to Eyvind Earle's dedication on Sleeping Beauty, which originated in Walt's dream to have the film look like a "moving illustration." Perhaps Walt was already thinking ahead to that when Jaxon was first assigned to the film in 1952. And perhaps Jaxon could have formed a better bridge between the conflicts that would ensue between the animators and Earle. "He was one of the best directors that ever crossed the path here, really," Eric would say, "and very, very thorough…you can look at his record of things that he worked on and it's right there with the very best…such a wonderful personality."
-Deja, Andreas. "Deja View: Sleeping Beauty Story Meeting." Deja View. N.p., 19 Dec. 2012. Web. 31 July 2013. <http://andreasdeja.blogspot.com/2012/12/sleeping-beauty-story-meeting.html>.
-Ghez, Didier. Walt's People. Talking Disney with the Artists Who Knew Him. Vol. 6. [United States]: Xlibris Corporation, 2008. Print.
- Ghez, Didier. Walt's People. Talking Disney with the Artists Who Knew Him. Vol. 7. [United States]: Xlibris Corporation, 2008. Print.
-Ghez, Didier. Walts People: Talking Disney with the Artists Who Knew Him. Vol. 11. [S.l.]: Xlibris, 2011. Print.
-
Thomas, Frank, and Ollie Johnston. The Illusion of Life: Disney Animation. New York: Hyperion, 1995. Print.